Video-Igrice.Com Plays 156
Zombie Raft - Free Game - Play Online
What is Zombie Raft?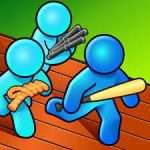 Zombie Raft is a free online casual apocalypse game where you scavenge, expand, and survive on a raft against the zombie tsunami! Keep moving forward and escape the zombie tsunami. Collect resources by moving away from the zombie run, squashing the vehicle forward, and pushing them all.
It's raft survival games time!
It's raft survival games time and i hope that you will survive this zombie apcalypse! Who will live? Who will die? You will decide that in this game, one of the best zombie games out there! Play this game Online & Unblocked at Video-Igrice.com for free.